Find out how an investment Telegram channel gained 3,254 subscribers for $1.3
Money Planet Overview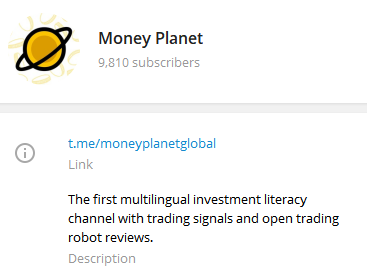 Money Planet is the first multilingual investment literacy Telegram channel with trading signals and open trading robot reviews. It has a Spanish, English, and Russian audience.
Link:https://t.me/moneyplanetglobal
They have been promoted on Telega since August 3, 2021.
What Was the Challenge of the Telegram Ad Campaign?
Finding new subscribers that are interested in the investment topics in English and Spanish on the Telegram channel. The Telegram channel is used to register for trading courses.
Finding Success in Telegram Ad Campaigns with the Help of Experts
The company took the first step of placing advertisements in Telegram on its own, but this did not lead to success. So the marketers searched on Google to find which sites were most popular to advertise on Telegram.
"There are no comparisons to your resources, in terms of the volume of foreign channels; there is nothing to compare with. The service is easy to use, especially the more the manager can organize an advertising campaign." — Money Planet Marketer
Telegram Marketing Strategy: Promoting Investment Channel to Business & Self-Development Audience
Managers and Money Planet marketers decided to promote the project in business, motivation, and book channels because their audience is business people engaged in self-development.
The Telega.io manager selected the most suitable channels:Business & startups,Trading, and Motivation&Self-Development
In the second step, an ad post was created.
The promotional post focused on the benefits that a person will receive when they subscribe to the channel.
Campaign Outcome: Ad Results
The ad campaign results from August 3 until the end of the month:
Budget — $4,319
Subscribed — 3,254 people
Average Cost — $1.3
"We would like to thank you for the convenient service that allows you to find the right audience without spending a lot of time. We gained more than 3,000 subscribers to our investment channel. The subscribers only cost $1.3. This is a very good result for such a topic. It is very convenient that there is an opportunity to use the manager's help fin the selection of channels." —Owner of the "Money Planet" Telegram channel
Start Growing With Telega.io Today
Would you like to promote your mobile game to Telegram?Leave a request.We will help you reach your goals.