Register at the exchange and log in to your personal account.
Select "My Channels and Chats" from the cabinet menu.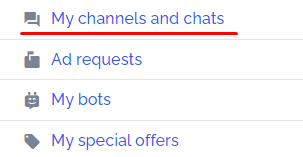 On the opened page, click on the "Send verification code" button
Open the email that you entered during registration.
Open an email from the "Confirm Email on Telega.in" service. Confirm your email address by clicking on the link in the email.
After the system automatically returns you to the exchange, click on the "Add Channel" button.
On the "Add Channels and Chats" page, fill out the form and click "Create" button.
If you have ant difficulties with filling out the form, contact our support team.