Exclusive channel status is a special offer for channels and groups with 3,000 or more subscribers and an engagement rate (ER) above 15%.
The Exclusive status helps to make the channel more visible on the platform, get more rating points, and earn a percentage from the orders of each user who signs up on the service using your referral link and buys a post on your or any other channel registered in the system.
With the Exclusive status, you get:
fast rating growth on the platform: exclusive channels get almost 1.5 times more rating points for each order compared to regular channels, which allows you to get to the catalog top much faster, get more orders, and increase earnings on the platform;
+5 rating points for getting the Exclusive status;
a special "diamond" icon next to your avatar;
getting into a separate "Exclusive" filter, which is actively used by advertisers;
3.9% of the profit from transactions of your referrals on the rules of the referral program of the exchange.
Learn more about all the benefits of exclusive channels here.
How to make the channel exclusive:
Sign up on the Telega.io exchange.
Add your channel or group to the catalog.
Go to the "My channels" section and click the "More" button on the channel card.

In the "Exclusive channel" section of the expanded card, check whether the channel meets the conditions for getting the exclusive status.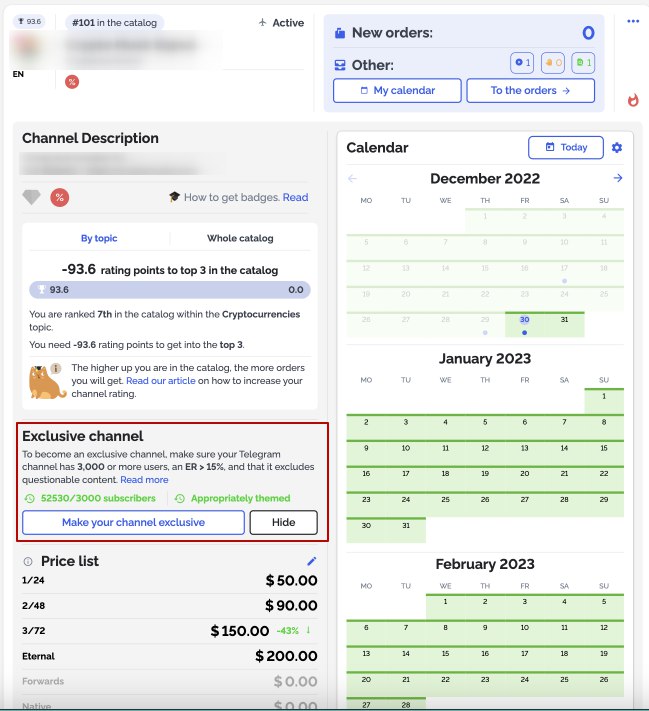 If the channel meets all the conditions, the "Make Exclusive" button will be active, and you can proceed to the next step. If the channel does not have enough subscribers or has low ER, the button will be inactive, and the system will give you hints about what you need to fix.
After clicking the "Make your channel exclusive" button, the application window will open. At this stage, you need to copy the referral link to the channel (from the application window or the Affiliate program section) and add it to the channel description in Telegram.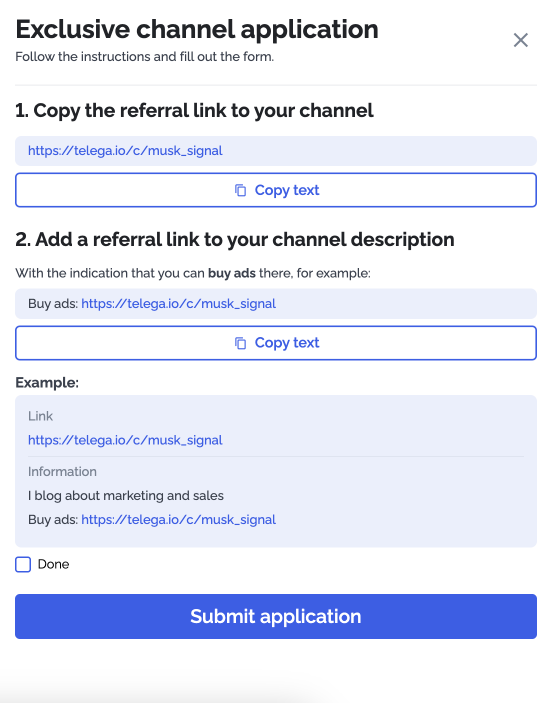 After that, you can submit your application.
If you have any questions, please contact our support team.