In the previous lesson, we learned how to set up an advertising campaign. But how to choose a channel for placement. It will be the topic of this article.
These services will help you analyze Telegram channels: Telemetrio, Telega.io
Main parameters of a Telegram channel
Subscribers and ER are the two most important parameters.
Subscribers
Well-known criteria. It shows the total number of members that a channel/bot/group currently has. You should beware of channels with cheat subscribers. More on that later.

ER
The Engagement rate (ER) indicator represents the percentage of the audience that is engaging with the channel's content.
ER = Total number of impressions / Total number of subscribers * 100%
If your channel has 200 views with 1000 subscribers, then the channel's ER = 20%. It is advised to advertise in channels with ER at least 15-20%.
Cheat subscribers
Why do administrators sometimes cheat subscribers for their channels? Is it really required?
It simply allows them to increase subscribers fast.
Subscriber cheating is the easiest way to quickly increase the audience. It's not really fair though. Every channel admin wants more people to subscribe. Some are enticed enough to increase subscriber count in this unfair way.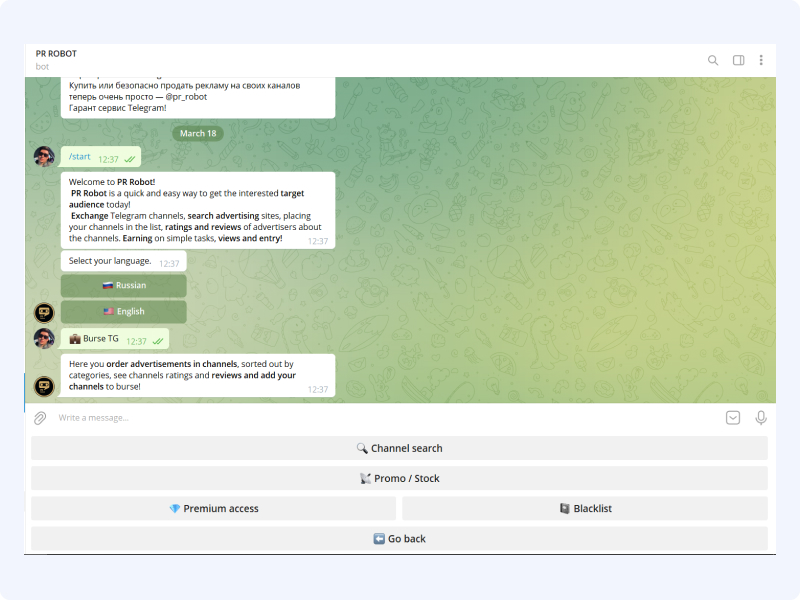 There is only one point for subscriber cheat — it allows you to quickly increase the number of subscribers. But there are a lot of points against:
Low ER

The exchange will not accept

High unsubscribe rate

Losing reputation
There are 2 ways to cheat on Telegram.
Subscriber cheat
The number of subscribers can be increased with bots and "offers". Offers are people who subscribe to a channel for money. Mostly they unsubscribe after a couple of weeks. Bots are just dead weight, Telegram figures them out by itself. There are high-quality bots, their search may take longer.
Views cheat
Only the post views can be created this way. Views can be created for just one post or for an entire channel feed. It all depends on the budget. This method can be used by scammers in their channels. An inexperienced advertiser would buy ads in such a channel and see a large number of views on the post. It won't bring real subscribers. Money wasted.
How to detect cheats
It is very difficult to detect cheating if it is carried out by an experienced team. Fortunately, they are low numbers. There is a little algorithm that can help you detect cheating:
Views ratio. It's strange to see only 200 views on a channel with 100,000 subscribers. The same goes for subscribers. If the channel has 2000 subscribers, it is suspicious to see 1999 views of the post.

Analyze the feed for the last month. Scammers generally lack the money for constant cheating. Their views may be very spasmodic because of that.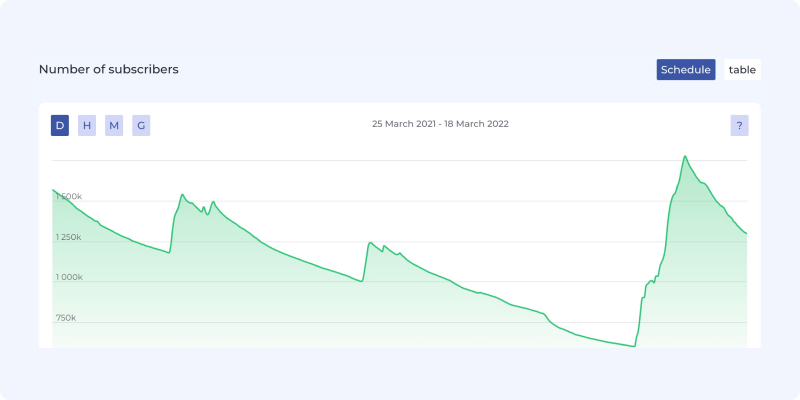 3. Uneven subscriber growth. Let's remember the last lesson. Spikes show that members were unsubscribing from the channel. Most likely these are the moments the bots left.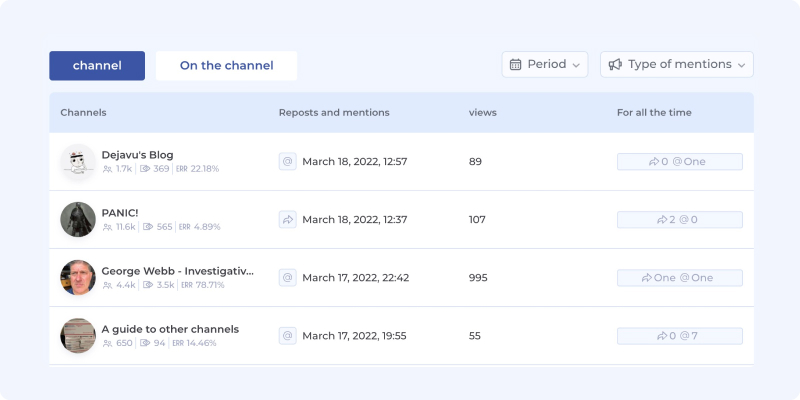 4. Check post count. Sometimes administrators don't post a lot to avoid higher costs of cheating. A channel that is publishing no more than 3-4 posts per month may be a scam.
5. Use special services like Telemetrio, Telega.io. You can just type the channel name in a search bar.
Don't be too lazy to analyze channels and their statistics.
Strategy for selecting Telegram channels
Let's remember the first lesson. You need to start an advertising campaign with an understanding of your target audience (TA). If you have decided on your audience, then you need to choose a channel based on your decision.
For example
You advertise nail extension online courses. Your target audience is girls aged 20-35.
The target topic will be "Beauty"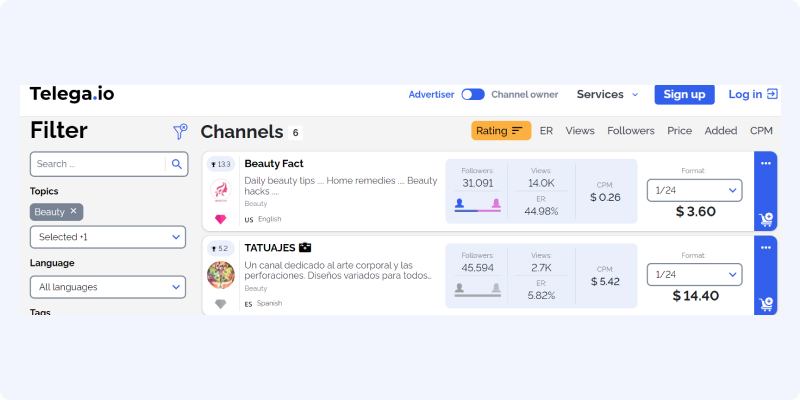 Related topics — Fitness and Fashion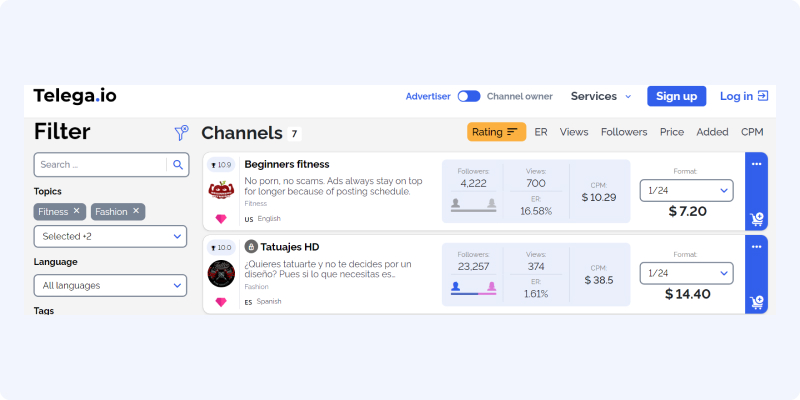 Common topic — Movie, Humor, and Memes, etc.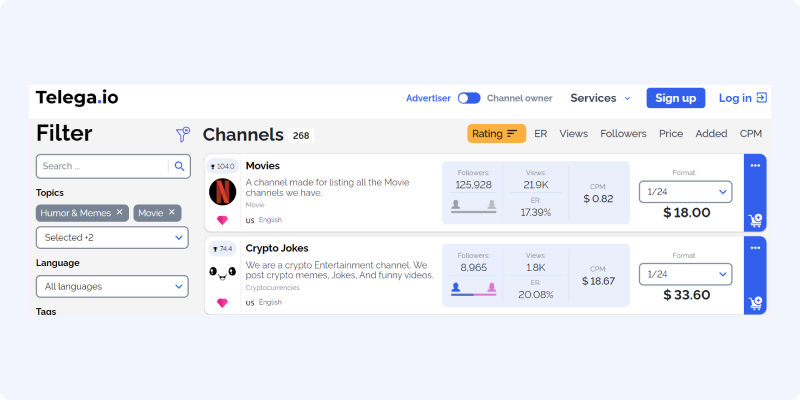 Check yourself
Complete a short quiz to remember the main points of the lesson. It will help you prepare for the certification test.
In the next lesson, you will learn how to create an effective advertising post.