In the previous lessons we told you how to start an advertising campaign. In this last lesson we want to explain how to analyze its results.
Types of links
A link is one of the main parts of an advertising campaign. Clients will gain access to your product through it. A link can transfer the user to a third-party resource or to your channel, chat, or bot. Conversion within Telegram is better than conversion to an external site since there is no additional loading of browser pages in Telegram.
You can use 3 types of links in Telegram:
Simple link

Button link

Link in text
No matter what type of link you use, you should
add UTM parameters to the link if you connect to an external resource

use Invite Link (a unique link to the channel) if you connect to the Telegram channel
Let's take a closer look at each type
Simple link
The most simple type.
We write our text, copy and paste the link inside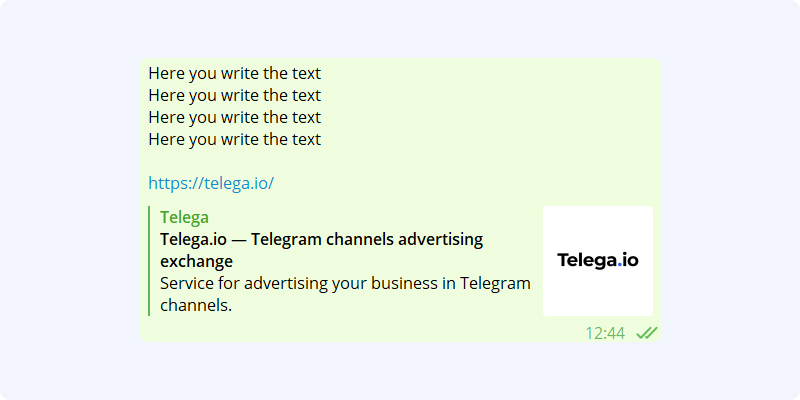 Button link
This type of link may not be available to each and every channel, so check this in advance.
If you are a channel owner, then you can add buttons to your post with the help of special administrative bots, like @ControllerBot. We have mentioned it in previous lessons.
Link in text
A very convenient and simple type of link.
You can put this link in your text in a few clicks.
Select the text to add the link to.

Press the right mouse button.

In the formatting section, select "Add Link". You can use "Ctrl+K" or "command+U" (for Mac) hotkeys.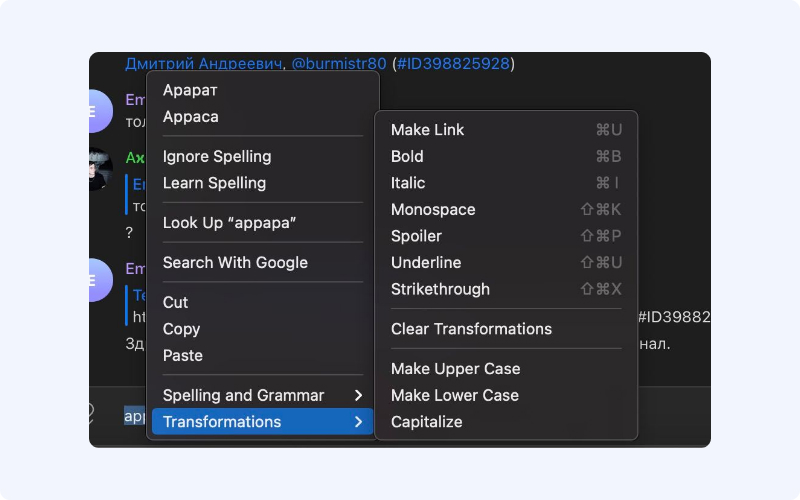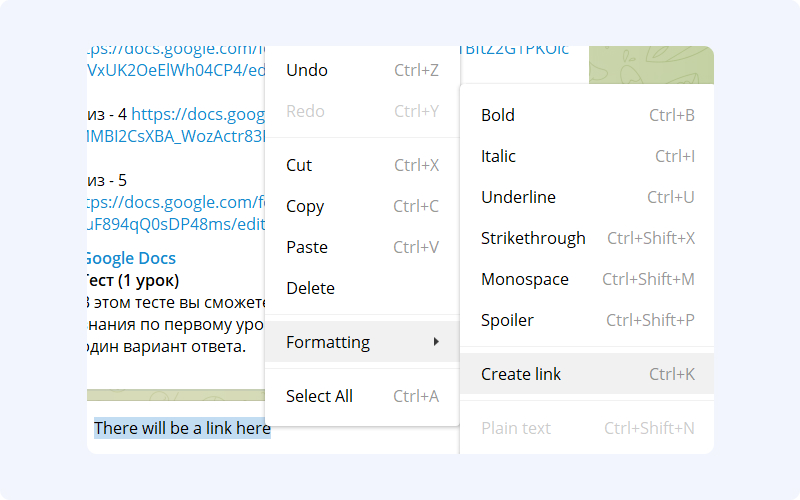 Add the link in a window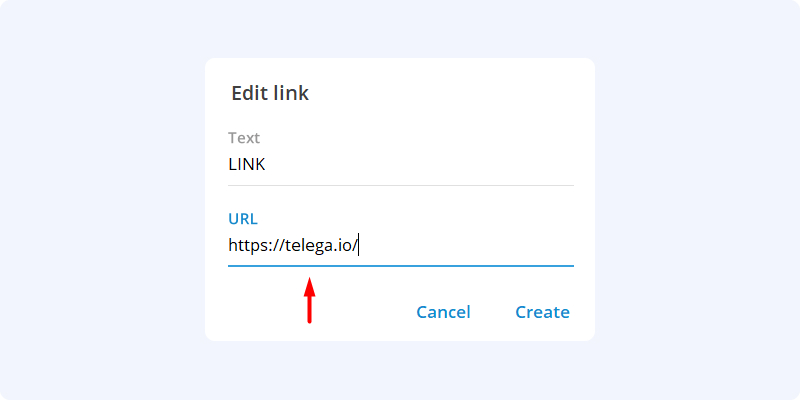 It's ready! The link was added.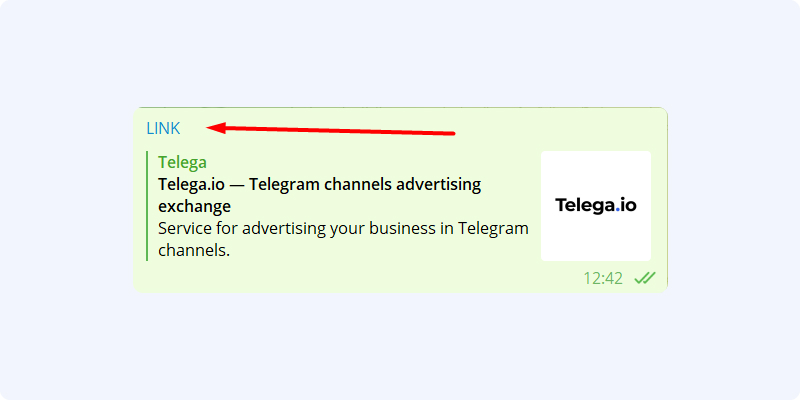 UTM-tags
Google Analytics helps you evaluate website traffic from different sources. We do not recommend trusting these statistics. It is better to use UTM tags to identify the source of your traffic.
UTM tags make up a tracking module that helps Google and Yandex analytics process data. With the help of UTM tags, you can track statistics for each Telegram channel. It's like a spy game.
You can create a UTM tag yourself or use a UTM tag generator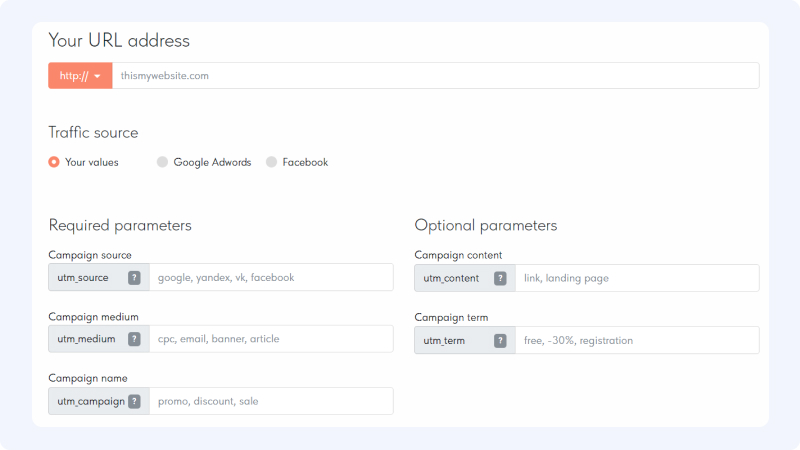 Your link with a UTM tag may look like this: telega.io/?utm_source=yandex.
You can put it in the text as well, like any other link.
Invite Link
This link is a built-in Telegram link.
Along with the main (public) link, you can create additional links with a limited duration and/or a number of uses.

What makes this invite links special is that they can be used to track the performance of your ads. Now you will know where subscribers came from or what ad format was the most effective.
If you buy ads in other Telegram channels, create a link for each advertising post. After the ad campaign is concluded, you will be able to see how many people have subscribed with each link and calculate the cost of a subscriber.
You can get a QR code for your Invite Link.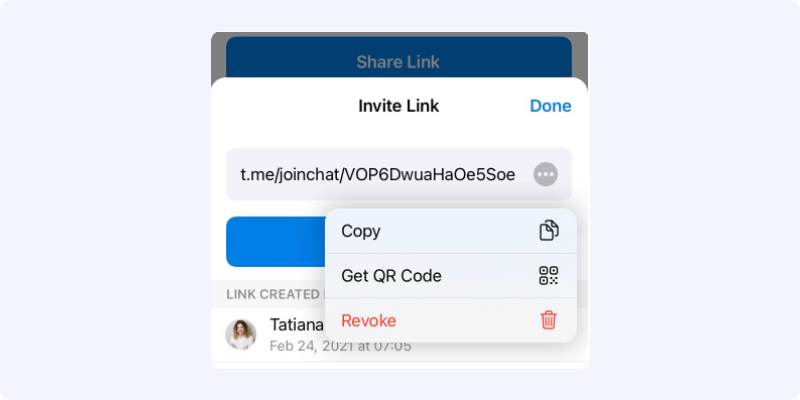 How to collect the ad post statistics
After you have placed your advertising post in Telegram, you can collect metrics that will help you evaluate the success of your advertising campaign.
Advertising report template

Engagement rate (ER) indicator — represents the percentage of the audience that is engaging with the channel's content.

Cost — the price of an ad post

Reach — the number of views that advertising post received

Clicks — the number of transitions from an ad post to an external resource (website or app). You can see clicks in Yandex.Metrica or Google Analytics

Post СV0 — conversion from reach to website visits. Divide the number of clicks by the total reach of an ad post.

CPC — cost per click. Divide the number of clicks by total reach.

Each business has its own goals, but leads and installs are the most popular. If you are advertising a Telegram channel, then your goal is a subscription.

Page СV1 — conversion from view (reach) to a goal. Divide the number of goals (leads) by the total reach.

CPA — cost per action. Divide the price of the post by the number of goals reached.

CPM — сost per thousand views. Divide the ad placement cost by the number of ad impressions and multiply by 1,000.
Data collection
Depending on how you place ad posts, you can get totals in two ways:
Manual
Reach
It's a time-consuming way. An hour before the end of each ad, you need to go through all the Telegram channels where you posted that ad and collect the data.
You should already have a table for your advertising data in order to keep track of all ads.
Using this method you can also visually estimate the number of comments and reactions to the ad post if they were enabled by the channel owner. Users ask important questions in the comments quite often. Consider their questions in your subsequent advertising campaigns.
Conversions
You can see the number of clicks and goals reached per UTM tag in your Google or Yandex system analytics report.
Add the collected data to the table to calculate the effectiveness of the advertising campaign.
Automatic
Let's explore this option using Telega.io ad placement as an example.
This option saves you time, as data on all placements is stored in the advertising account.
You can find the following metrics in your account:
The cost of an advertising campaign

The period of an advertising campaign

The total number of views

Views by hour

Time in top
Next, you will need to collect clicks and goals reached data, and compile a final table with all ad placements.
Conclusions and plans for future advertising campaigns
Using the final advertising report, you can evaluate the effectiveness of each Telegram channel individually, as well as the entire campaign. With this new data you can:
Select Telegram channels where you will be able to repeat your campaign after a while.

Choose the categories that performed best. Buy advertising in even more channels of said categories.
Check yourself
Complete a short quiz to remember the main points of the lesson. It will help you prepare for the certification test.
The course "How to advertise in Telegram" has come to an end. Pass the final test and receive a certificate.