In this lesson, we will explore the concept of Target Audience and targeting on Telegram.
What is the target audience?
Any advertising campaign begins with an analysis of the target audience. The target audience is people who need your product. Make a portrait of the client to understand your target audience better.
Example of the Portrait.
Depending on your resources, there are following options::
👉 a detailed portrait. Your customer is Joe, 33 years old. He is a programmer in an IT company, and in the evenings he likes to play computer games. He uses carsharing to get to work and sometimes tries himself in investments.
👉 a top-level portrait. Your customer is a middle-aged woman between 35 and 50 years old.
You should picture the audience who will get your advertising message.
The next step is understanding what kind of targeting is available on Telegram.
Targeting on Telegram
There is no geotargeting on Telegram. But the audience can be segmented by topic and language. All channels and bots are divided by topics, for example:
Fashion

Business and startups

Marketing and PR
The channel owners indicate the topics of their channels themselves.
How to understand the interests of your target audience? The shortest way is to check a special "Audience Interests" section of Google Analytics.
All channels and bots are divided by the language of their content. This targeting is especially effective in combination with interests, when you launch international advertising campaigns.
Telega.io offers 15+ languages in the "Language" filter.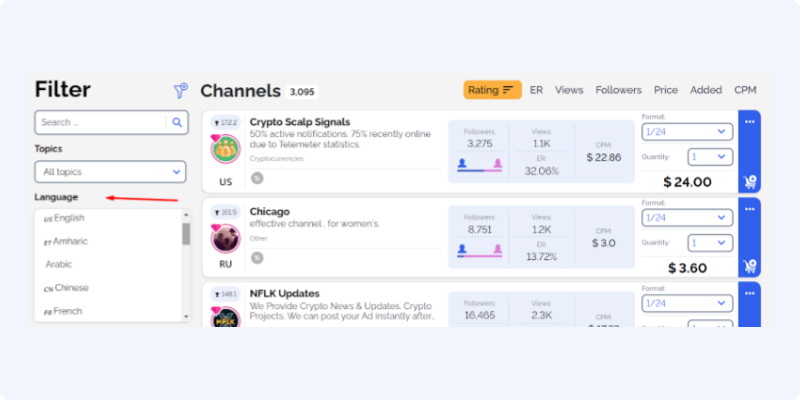 Choosing Telegram channels by topic
Once you have decided on your audience, you need to choose a channel based on their interests.
Telega.io catalog has a filter by topic. We have collected over 50 topics. They are as close as possible to the topics indicated on the official Telegram advertising platform.
We would like to remind you that advertising through the official platform is possible with a budget of 2 million euros upfront.
We recommend choosing several types of topics for more effective advertising: target, related, and common.
Example
You advertise nail extension online courses. Your target audience is girls 20-35 years old.
👉Target topic will be "Beauty".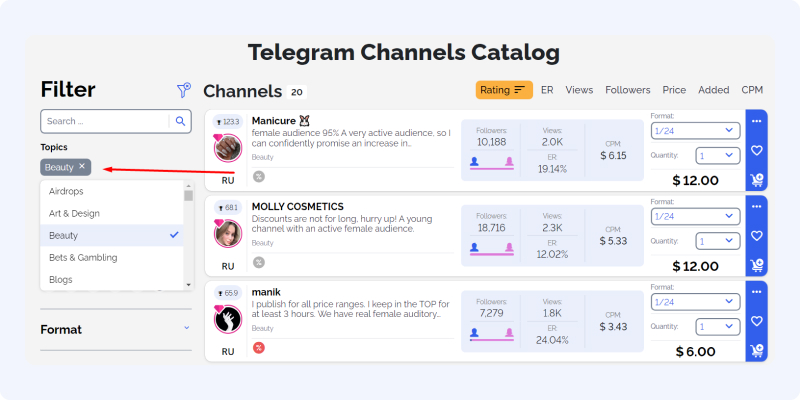 👉Related topics — "Fitness" and "Fashion".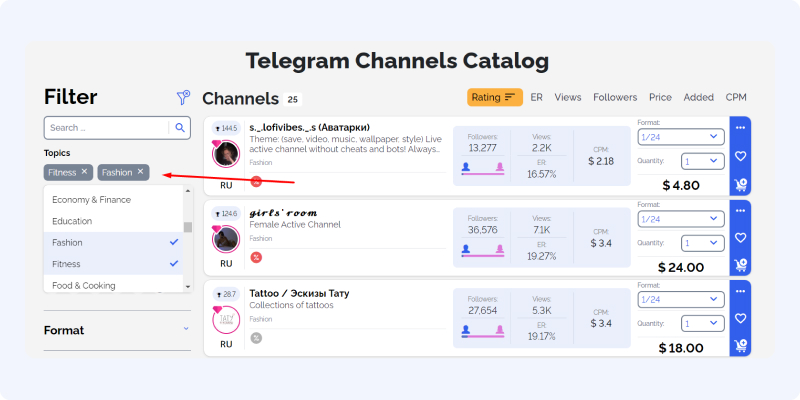 👉Common topics — "Movie", "Humor", "Memes", etc.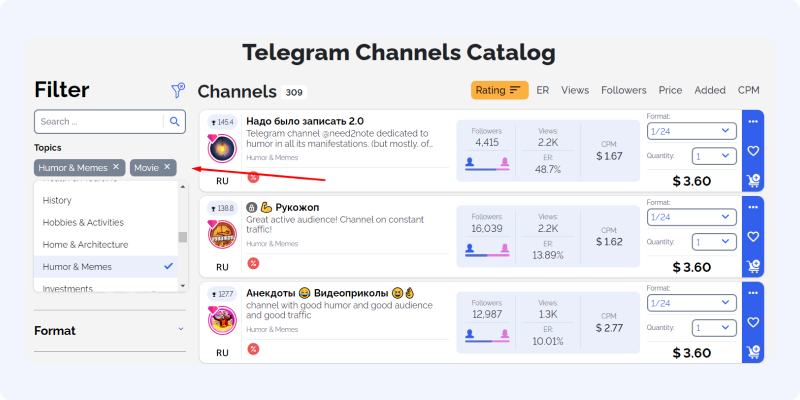 As a test, you can choose 60% of the channels from the Target Topic and 20% from the Related and Common.
How to set up the budget
Testing Telegram should not be different from testing any other advertising tool. Therefore, allocate a comfortable test budget.
In addition, you can evaluate topics and specific channels by CPM (cost per 1000 impressions).
We advise you to make comparisons by CPM for the second and subsequent advertising placements to collect data for analysis.
On Telega.io there is a section on CPM analytics for various topics, which is updated monthly.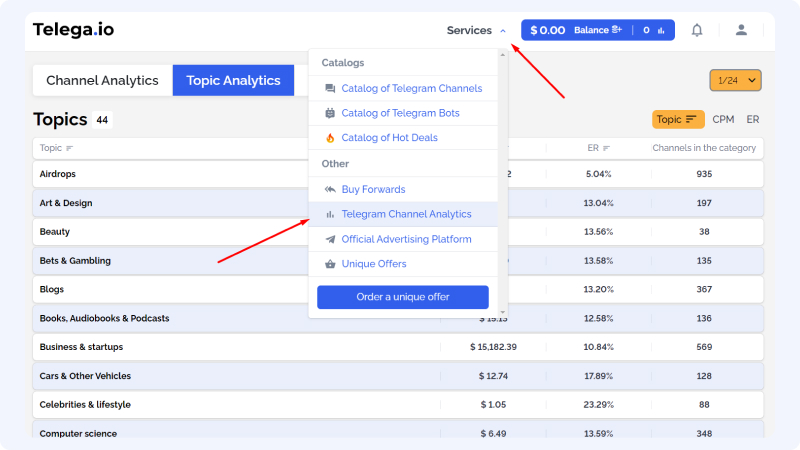 Also, in this section you can see the "Fair Value" parameter. It is calculated on the basis of CPM and helps you understand if the placement cost is fair in terms of this niche and market.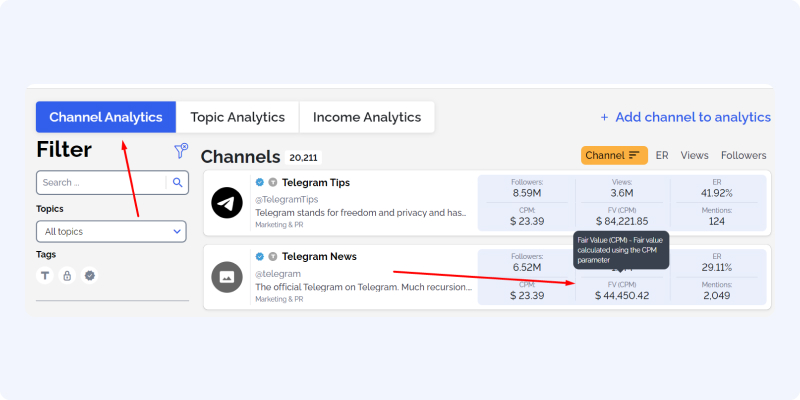 In the next lesson, we will tell you what to take into account when choosing a channel.