So, you have identified your target audience. To place ads, you need to select channels from the Telega.io catalog.
This lesson will explain what parameters you should pay attention to when choosing a Telegram channel.
Telegram channel main parameters
There are two key parameters: "Subscribers" and "ER".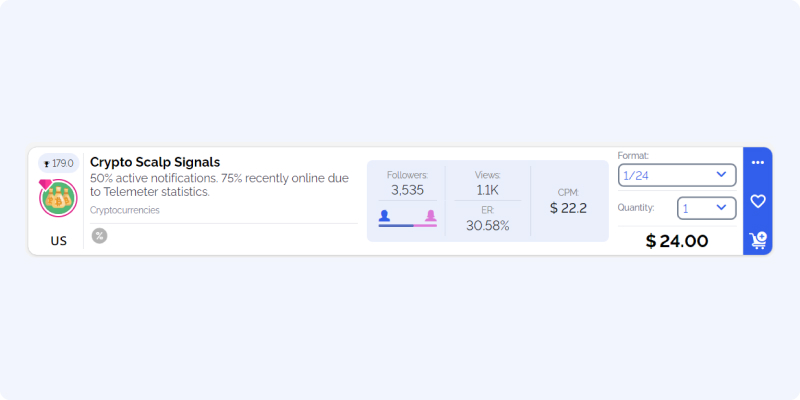 Subscribers
The "Subscribers" parameter shows the total number of users of the channel, bot, or group at the current moment. You should avoid the channels with fake subscribers, if you buy ads outside the platform. But more on that later.
If you buy ads through the Telega.io catalog, you should not worry about fake subscribers. Each channel is moderated manually before it gets to the catalog. If you have doubts about a particular channel, you can always contact the support.

ER
The "Engagement rate" (ER) is an audience engagement indicator, measured in percent. It's easy to calculate:
Total number of engagements/Total number of subscribers
If your channel has 200 views with 1000 subscribers, then the channel's ER = 20%. We recommend advertising on channels with at least 15%, although ER >10% can be viable in some cases.
The platform has sorting by ER, Views, etc.
We advise you to pay attention to the ER of the audience. But if you are a large company with enough budget, then you can sort channels simply by cost.
In addition to the "Subscribers" and "ER", pay attention to "CPM" and placement format.
"CPM" — price per 1000 views. The minimum base size for advertising placement.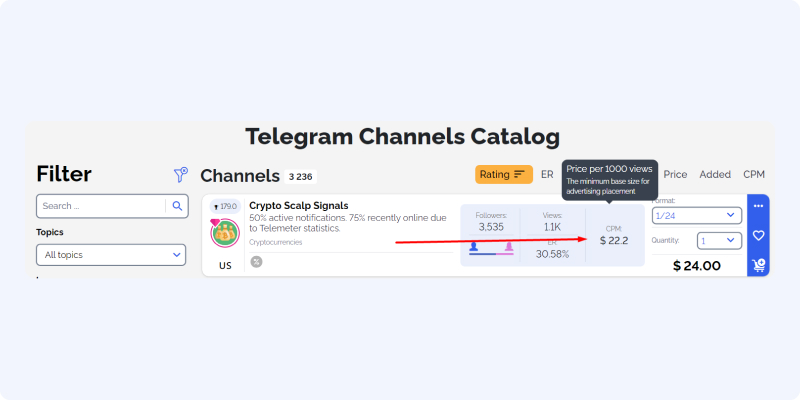 Working with filters
You can filter channels according to the following criteria:
Topics

Language

Tags

Formats

Ranges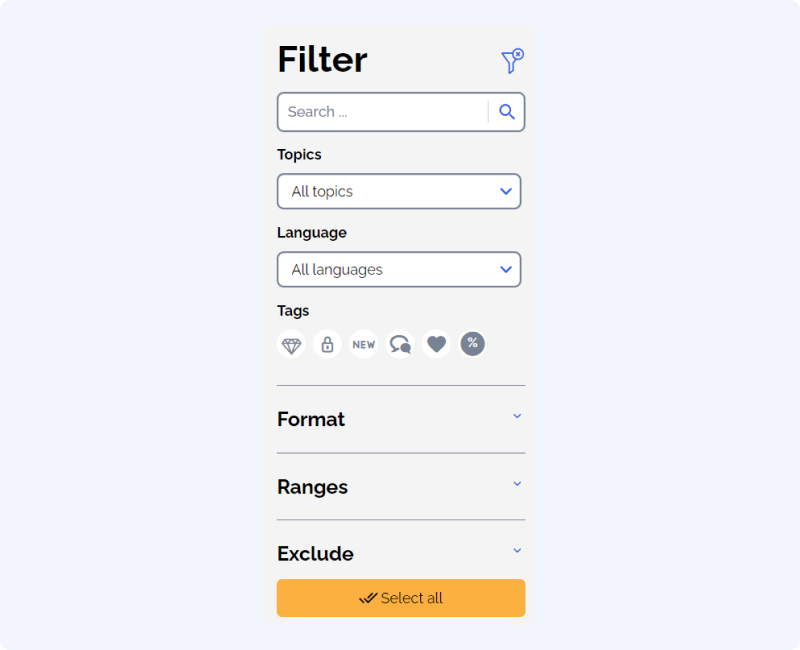 Let's take a look at each section.
Topics
There is no geotargeting on Telegram. But the audience can be segmented by topic. All channels and bots are divided by topic, for example:
Fashion

Business and startups

Marketing and PR
The channel owners indicate the topics of their channels themselves.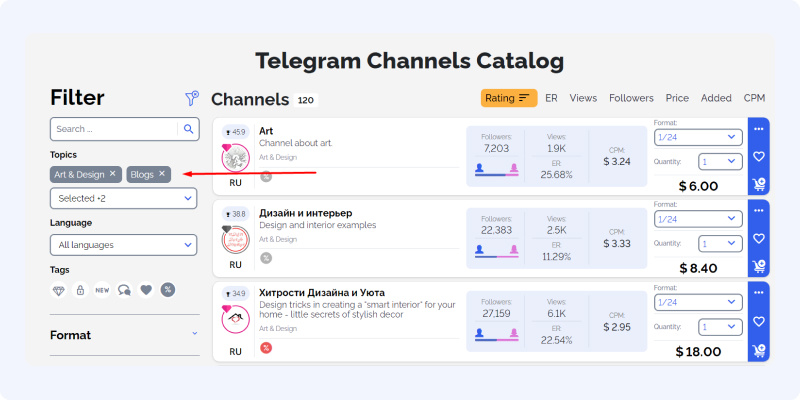 Telegram does not track location. Because of this, segmenting users by location is almost impossible. Here is a lifehack: search by the city name. Some channel owners add city names to the titles of the channels.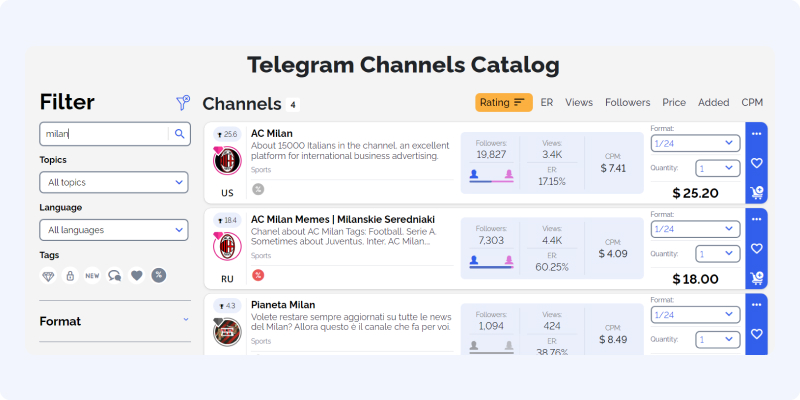 Tags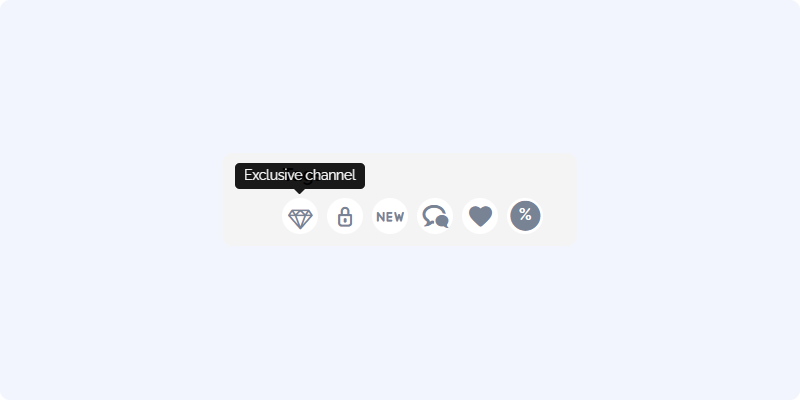 The "Exclusive" channel status is assigned to Telegram channels with ER above 15% and more than 3,000 subscribers. Thus, our team additionally points out quality channels.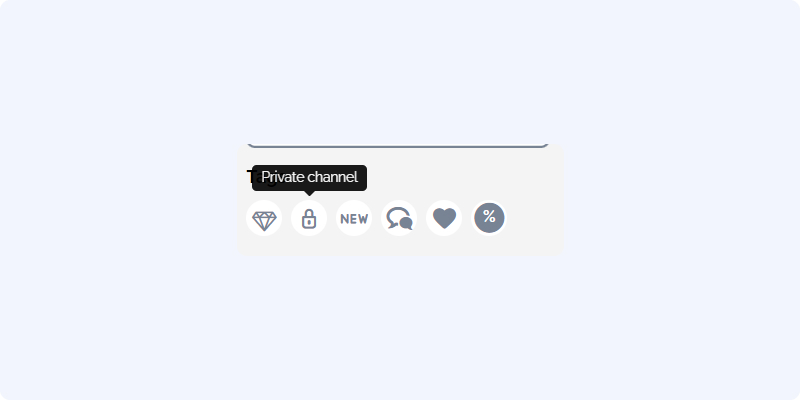 Private channels are closed channels, accessible only through a special link. They are also available for advertising.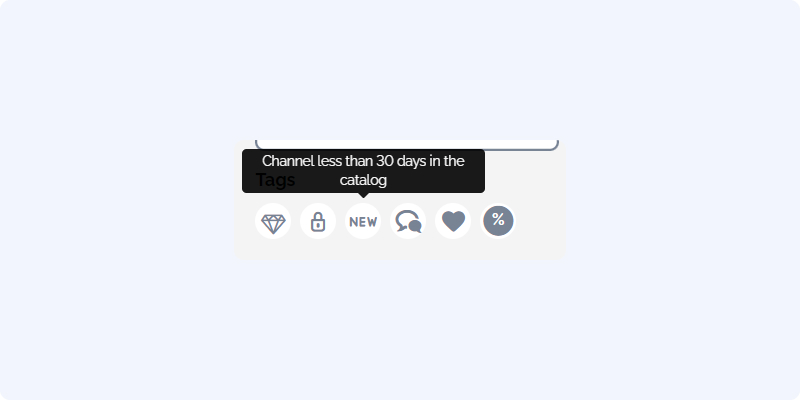 The "NEW" tag displays channels that have been in the catalog for less than 30 days. This filter will help you find new channels in your niche, if you buy ads regularly.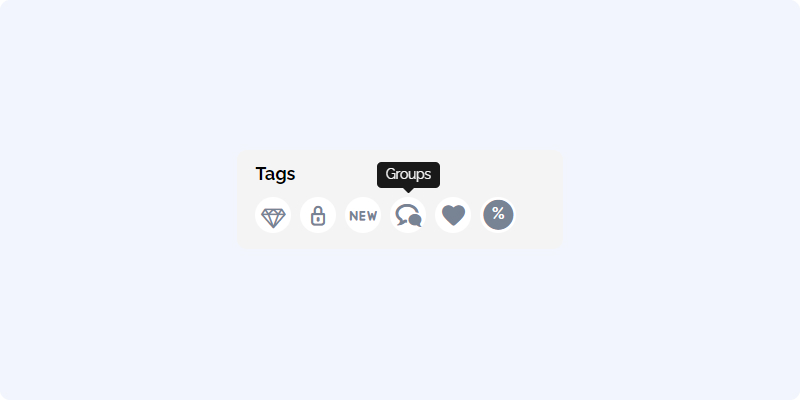 This filter shows Telegram chats. It is impossible to calculate ER of chats, but you can analyze the approximate chat activity. According to the platform rules, chat advertising posts are always pinned.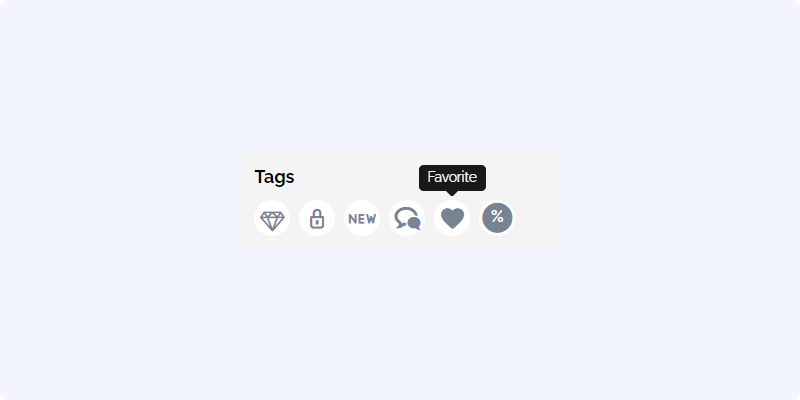 This tag appears on the channels that you have saved to your "Favorites". This filter is good for advertisers who regularly run advertising campaigns.
You can add a channel to "Favorites" by clicking the "Heart" icon on the catalog.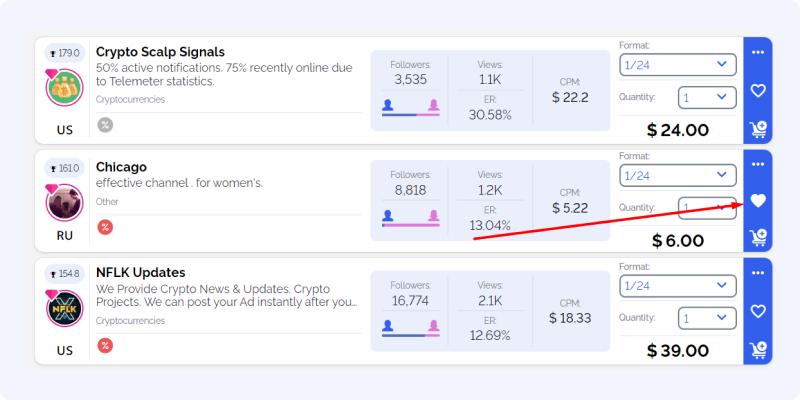 We have recently added different discounts:
Wholesale order discount.

Discount for a one-time order for 2 or more placements on one channel.

Repeat order discount.

Discount for 2, 3, and subsequent placements after the first successful placement on a specific channel.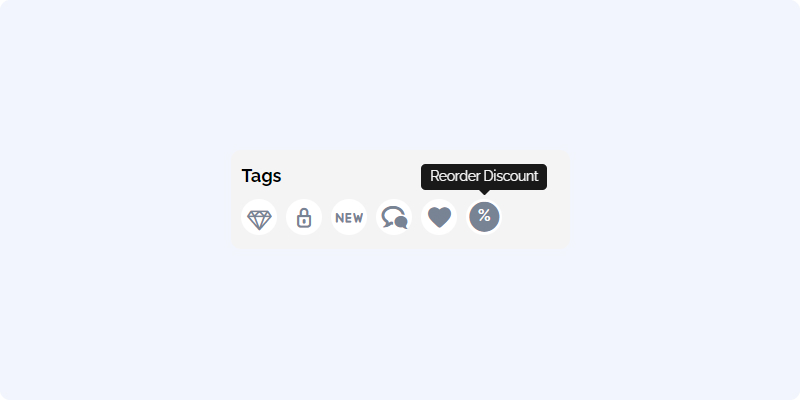 Format
You can choose the format of advertising on Telega.io. There are four types available: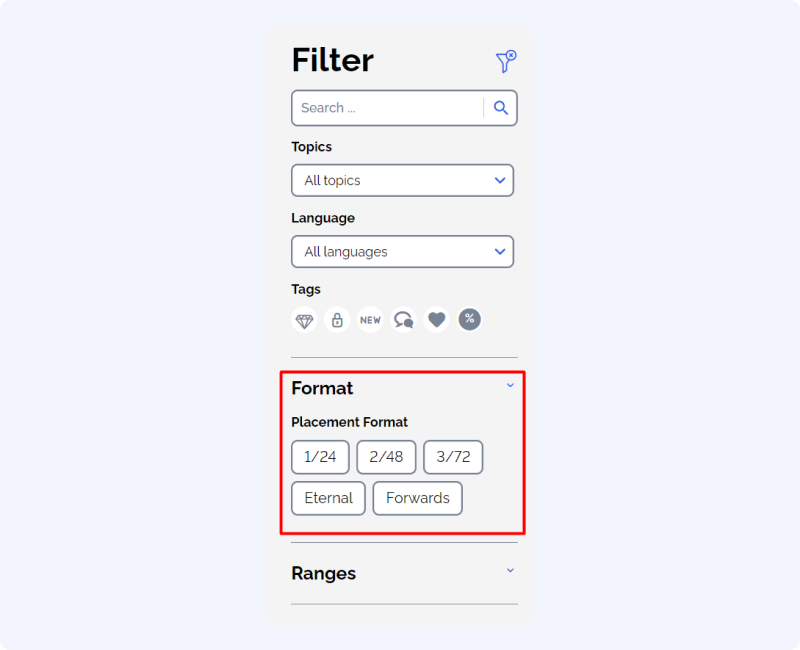 1/24: the post will be the last one on the channel feed for 1 hour and will not be deleted for 24 hours. The same goes for 2/48 and 3/72 formats.
Eternal:the post stays permanently on the channel.
Forwarded Message (Repost): ad post from the advertised channel is forwarded to other channels.
Ranges
In this section, you can customize the settings according to your goals. Select the appropriate ER or subscribers range. The option to select CPV has recently been added.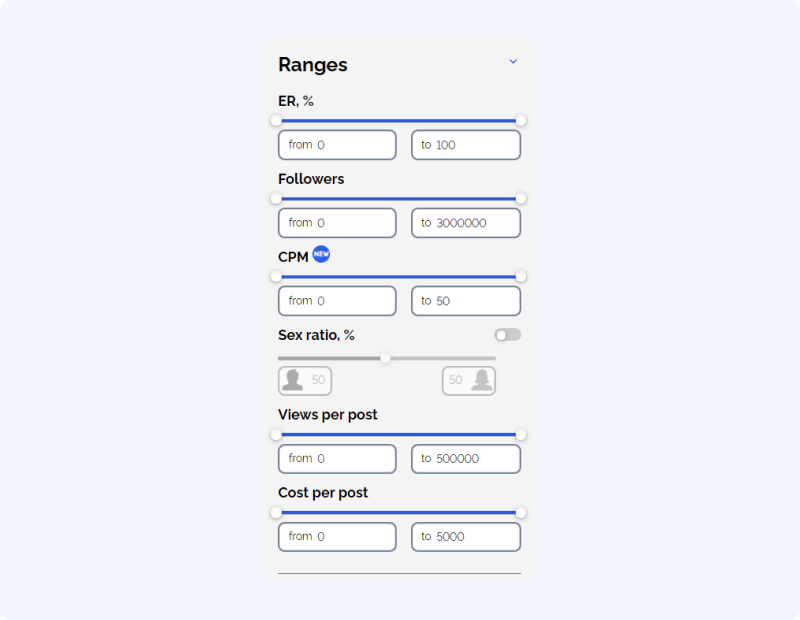 Hot Deals
"Hot Deals" is a catalog of Telegram channels with discounts from 25%, active only for 24 hours.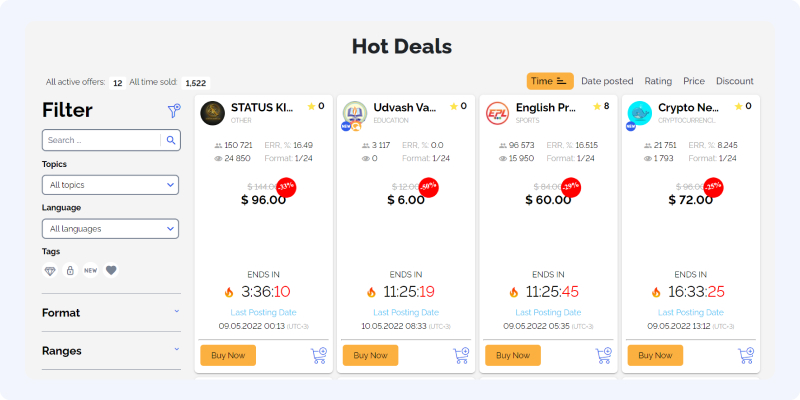 You can also subscribe and follow the updates of the chosen topics. Use the "Topics" filter and click "Subscribe to Hot Deals". The system will redirect you to the Hot Deals Telegram bot, where you need to click "Start". You will receive a notification on Telegram every time new discounts within your topics appear.
In the next lesson, we will tell you how to create a shopping cart, save the package, and upload the list of channels for further media planning.